Last Updated on November 28, 2022 by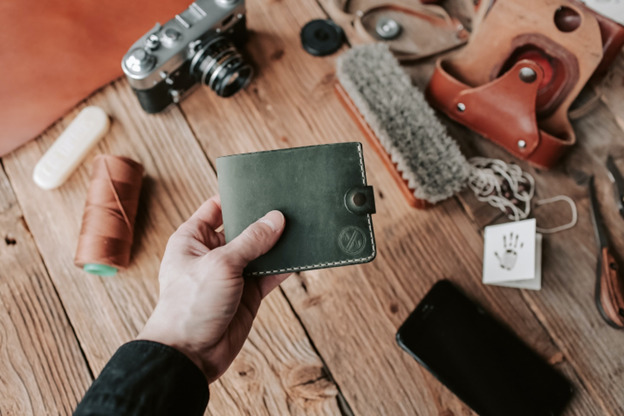 Image Source
Are you looking for wallets so you can add your accessory to your outfit and make it look complete and classy? Your wallet isn't just something you carry for your cash and cards; it can be your statement piece that speaks about your style and preferences.
Leather wallets these days are available in various colors, sizes, and styles, and have multiple features, so you should pick and select from the one you like the most. Regarding leather wallets, you need to understand that they are an important accessory, so you should ensure that you pick one that is suitable.
Moreover, we realize that every person can have different needs when it comes to wallets which is why we are here today to present you with multiple wallet ideas. Have a look at the recommendations below and see which wallet suits you and your budget the best.
1. Bi-Fold Wallets
Are you planning to design your wardrobe from scratch and want a leather wallet that is simple, elegant, and suitable for all occasions. One of the most popular types of wallets, Bi-fold wallets, can be carried everywhere, whether in an office place or a casual event out and can even be tucked inside a bag or a pocket. Bi-fold wallets are a type of wallet with two sections, which are folded into half when you want to close the wallet. Both sections have pockets or compartments on the front, and there is space for you behind these compartments where you can store your cash.
2. Trifold Wallets
Do you want a wallet that offers you a little more room for your essentials so that you can store more of your valuables? If you are a business owner or have a demanding job, then a trifold wallet can become a lifesaver for you. Just like their name, trifold wallets fold into three parts so you can store your bank cards, identification cards, discount cards, and other notes as well. Moreover, a trifold wallet is smaller than a bi-fold wallet, so if you have space issues, then this wallet will take up even less space.
3. ID Wallets
Also known as Minimalist wallets, ID wallets are wallets that can be carried by you if you prefer going cashless and only carrying cards with you. ID Wallets can help you store all your bank cards and identification cards, – which sums up what you need when you head out. Other than card slots, ID wallets also have space to keep some spare change, receipts, and even a few bank notes. Also, if you tend to lose your wallets as they get too heavy for you to carry, then ID wallets will be perfect as they are slim and small in size.
4. Front Pocket Wallets
Are you usually wearing a vest or owning shirts with many front pockets? If yes, then you will be delighted to learn that front pocket wallets are a huge hit these days. These wallets are loved and ideal among men as they have room for everything, whether cash or cards. Also, to make the wallet more secure, these leather wallets have a strap or button on the front, ensuring that your valuables never fall out. Also, despite having space for everything, this wallet is slim, so it won't make your front pocket look heavy or bulky.
5. Checkbook Wallets
If you travel frequently or are always on the go due to your business trips, then a checkbook wallet is exactly what you need. A little large in size, checkbook wallets serve the purpose of both a wallet and a checkbook carrier, which means you won't have to carry your checkbook separately. These wallets also come with pen holders, so no more losing your pens. Yay! Also, checkbook wallets make you appear presentable and bring a sophisticated and elegant vibe. These wallets are worth a shot if you like to keep your bills straight and not folded.
6. Passport Wallets
Also known as Travel Wallets, Passport Wallets help you with better organization and contain extra pockets to hold credit cards, IDs, cash, vaccination cards, and other documents. When you have everything in one place, you will be at peace knowing that things will not get lost easily. This way, you also won't have to carry extra stuff with you that will take up more space for no reason. Moreover, passport wallets are also convenient because you can attach your notes to them and write down some important travel-related chores or experiences.
7. Money Clip Wallets
Most of the time, people stick to traditional wallets, and they miss out on modern wallets that are worth a shot. A money clip wallet is a compact wallet used to store cash and credit. It has a secure cash strap inside, a tab for quick access to cards, and is small, light-weight, and durable, so you can take it with you no matter where you go. It is the perfect alternative for people who do not want to carry a wallet and helps them avoid overstuffing and be organized and in control.
8. Hipster Wallets
Are you looking for a wallet with an aesthetic design or a cool vibe? Well, the Hipster Wallet might live up to your demands. Similar to a Bi-fold wallet, a Hipster Wallet is a wallet that is larger and also wider, which means it can easily accommodate more of your valuables and essentials. A hipster wallet can be the right fit for you if you are the kind of person who always carries more than 20 to 30 credit or debit cards with them. Also, this wallet usually goes well with people who opt for more of a vintage or a rusty look.
9. Credit Card Holder Wallets
A Credit Card Holder Wallet is a men wallet typically designed to hold ID cards, credit cards, debit cards, gift cards, promotional cards, and other cards like medical cards. If you aren't much of a fan of leather wallets, then a credit card holder made of leather will also work well for you. Even if you want to stay a little organized, a credit card holder can be great as you can also keep some cash in, a few spare bills, and receipts as well.
10. Zipper Wallets
A zippered wallet is highly preferred by men these days because the zip helps make the wallet more secure and safe to carry wherever they want. It also prevents your cards and coins from falling out and ensures that everything stays inside the wallet. A zippered wallet also gives you quick access to the cards inside and great functionality. Also, a zipper wallet can be great for you if you have a habit of overstuffing your wallet and things keep falling out. If you have tiny things like a sim card or USB, you will be glad to have a zipper wallet as these things will not fall out.
Parting Note
When shopping for a leather wallet for the first time, it is important to look for what you want in a wallet. Make sure to look out for features, the usability of the wallet, and the price so that the wallet is within your budget. Moreover, if you like the options for leather wallets mentioned above, you might even purchase more than one wallet for different occasions. We hope that the leather wallet choices were of good help to you and it will guide you in making a selection.