Last Updated on June 8, 2023 by hassan abbas
Are you a business owner who knows how to do field work but lacks experience in off-field work? Do you know why keeping your off-field work updated is important? It is important because it helps you present your work more professionally.
With good software by your side, you don't even need to worry about having experience in off-field work. This is because this software takes up any workload that you may have. It helps you improve the functioning of your business. With this software, you no longer have to worry about who will make your invoices.
Who will help you improve your customer service? Or keep track of your inventory and mechanics. Therefore, you need auto repair software. This software is your ultimate AI assistant. You no longer need to worry about how things will be done around the shop. This is because, with this software, you can keep allowing your customers to get all the information about your business through your website.
They can book quick appointments, check the progress of their vehicle and contact you through your website. Keep on reading to find out more about this software.
Fast Invoices
Auto repair invoicing software keeps the function of your business going in the flow. With the help of this software, you can create innovative quick and easy invoices without too much work. As soon as your mechanic completes a job, you can convert it into an invoice with just one click.
This will allow you to complete your work faster and look more professional in front of your customer. Do you hate performing detailed calculations manually? Does it frustrate you? How many times do you have to repeat the same process just to make sure the answer you got at first was correct?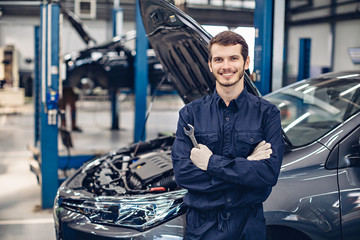 This can be very annoying and take up a lot of time that you can spend on other important stuff. But with auto repair invoicing software, you don't have to do all of this yourself now. This is because its AI system performs these calculations for you.
So all that's left to do for you is send this invoice to your customer and get paid. You can also track your invoices with this software. You can keep track of all the paid, delayed and under review payments. This means you get a complete hold of your business with just one click.
Scheduling Appointments
Are you busy? Do you want to focus on your business but also have like a thousand other things on your mind? Then what can you do? How will you improve your business's quality and its services? You can do that with auto repair scheduling software.
This software allows your customers to book their appointments from the comfort of their own houses. This means your customers no longer have to worry about getting their appointment wrong.
This is because your appointment portal makes booking appointments easier for your customers. This helps you improve the customer experience in your auto repair shop. And it also helps you turn your one-time customers into returning customers. This software also helps you reduce the no-shows in your shop. Do you know what that means?
This means that you no longer have to worry about your customers missing out on their appointments. Your customers can send automated reminders to your customers. These reminders will remind your customers about the date and time of their appointments.
This will help them stay updated about their visits and will show them that you mean business. This will also help them understand that you only mean business and that you are a professional.
Payments
Are you aware of how on-time payments can improve the work environment of your shop? This is why you always need to ensure that your invoices are getting to your customers on time. This will ensure on-time payments for your business and will allow you to keep your business up to date.
Torque Payments provides you with different methods to clear your payments. With this software, your customers never have to worry about visiting your shop to clear out a payment. They clear out their payments from anywhere and anytime.
Some of the payment methods provided by Torque Payments are:
Discover
JCB
PayPal
UnionPay
Mastercard
VISA
These payment methods allow your customers to complete their payments via the internet. This way, you are getting paid on time.
Read More About: Tips to Preserve Your Car's Paint
Conclusion
After reading this blog, you can understand that this software is the best way to get the functioning of your business in place. This software supports every type of computer and mobile device. You can use this software from anywhere in the world and still be able to keep track of your shops working.
Your customers not only get to book their appointments from the comfort of their homes but can also clear their payments from anywhere. This means you are not only making things easier for your customers, but you are also building a stronger base for your business.