Last Updated on June 8, 2023 by
A sewing machine is a device for stitching together fabric or other material. They are used to stitch multiple pieces of fabric together to create clothing items. They can also be used on leather materials and many types of materials for craft projects. Some common examples of what it can do include hemming, darning, overcasting, quilting, and binding together layers of fabric. When you use a sewing machine, it needs to be repaired and maintained. If you give not proper attention to its repairment, then it does not work properly.
Modern sewing machine
Today's sewing machines are often electronic devices that significantly reduce the effort involved in making complicated stitches. This has made them much more accessible to people who could not operate traditional old-fashioned sewing machines, including children. Pedal-operated sewing machines help users control the speed while using the machine with their feet only – generally, this is done for older people.
Sewing machines are the important tools in sewing machine industry. They make it very easy to make hems, seams, and perform other tasks quickly and easily. Many items would need to be made by hand without them, taking much more time and effort. They come in various styles designed specifically for different purposes, such as making clothes, quilts, or patchwork.
Sewing Machines work by using a motorized electronic mechanism to turn one or more spools of thread to push it back and forth between several sets of hooks at speeds of up to thousands per minute. The hooks either draw the thread through small loops on fabric pieces or attach it to other threads via the loop method. Sewing machines have been in existence for hundreds of years but have changed dramatically during that time. They have become much more accessible for people who are not very experienced with them to operate successfully while still producing very professional-looking result.
Uses of sewing machine
The most common use I have seen for a home sewing machine is making clothes or quilts, even though there are other uses. A sewing machine is also handy for adding new seams to old clothes or quilts and, for example, repairing a seam that has come loose on your pants, dress, quilt, etc. It can also be used for hemming long pieces of fabric.
Sewing machines help do fancy clothing items or unique home decor projects with fabrics. You can sew with a sewing machine to join together two pieces of cloth – this is often done with the help of thread pins to hold them together while you sew them together, so they do not move out of place. This would be most commonly done with large pieces of cloth where it would be not easy to hold everything in place using a hand-sewing needle and thread or a machine presser foot.
Read More: Understanding of Serger Sewing Machine: Feature, Uses And Different Type of Serger Sewing Machines
Sewing machine repair
This section of the article will give standard background information on what parts make up the sewing machine and what they do, why these parts wear out over time, when this typically happens, how you can evaluate if something is broken in the machine?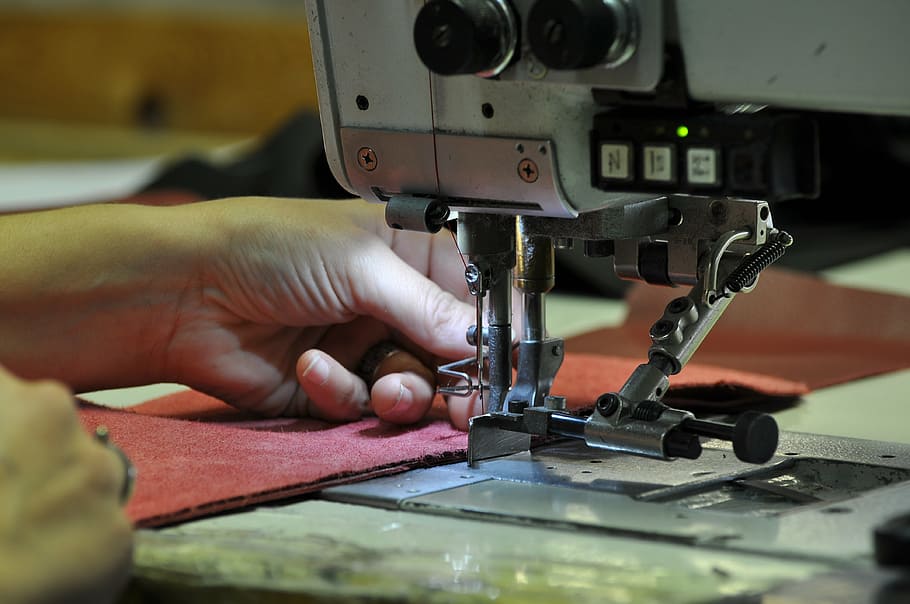 Why does it break? Sewing machines work through a series of mechanical processes to stitch together cloth or other materials. Common problems of sewing machines are mentioned below:
Sewing machines seize up and down but do not sew
Each sewing machine includes an arm with an attached needle that feeds up and down through the material while pulling thread back and forth between both sides. The process repeats continuously until either the fabric runs out or the maximum number of stitches has been reached. While each stitch may be small, there are many thousands created with each pass of the needle, so it takes quite a bit of wear on all of its components in order to keep the process going smoothly.
As a sewing machine is used, all its parts wear out at some point and will need to be replaced or repaired to resume standard functionality. This is a widespread problem for many types of fabric-based machinery as it is an expected part of their use over time. The general breakdown among most household sewing machines falls into three categories: those related to threading, those involving needle or stitch quality issues, and those due to overuse.
Thread keeps break
Threading has been the problem with most recent sewing machine models. They allow users to manually change thread spools using a dial with too much friction, making it difficult for the machine to pull more thread through properly. In machines with automatic threaders, the issue is usually due to a lint buildup in the threading system that will eventually block the spool.
Needle broken
Stitch quality issues are also common as they can often be related to frayed or tangled threads between your machine's needle and tension discs. This type of problem usually means you need to clean out any debris stuck inside one part of your machine before it can function properly again.
Overuse of sewing machine
Finally, overuse is an issue with many sewing machines as their motors simply wear down after sustained use. If your motor seems to be slowing down or if it starts smelling hot rather than running smoothly, you may need to replace it soon.
The sewing machine is working well, but the needle of the machine is not moving!
This problem may appear to be difficult at first, but this problem can be solved quickly. Check to see whether your machine is in bobbin-winding mode. If it's not, verify that the lever or winding post is in the correct position.
The needle arises unthreaded before stitching
You just spent months getting that thread over the eye of the needle, and as soon as you go to start sewing, it unthreads itself. Luckily, there's an easy fix for this one. Before threading your machine, make sure that the needle is at its highest point. While viewing the needle, you can do this by twisting the handwheel to yourself. Some devices also have an "up/down" feature that permits you to raise or lower the needle to its uppermost or lowermost point.
The Sewing machine is skipping sews
There are some conceivable motives for your machine to hop sews. Initially, check that your needle is adequately fit, not bent, or otherwise damaged and that you're using the correct kind of needle for the job. If the upper thread is not attaining the reel, the lines will not latch correctly, subsequently in a skipped darn. Re-thread your sew machine, both upper and bobbin threads, and examine if the problem is solved. If the machine is still skipping stitches, there may be a matter with the timing, which will require expert repairs.
It is widespread for people to ask if it's worth fixing their broken sewing machine. Since the market for used appliances is much larger than buying them brand-new, most sellers want to repair their sewing machines and resell them.
FAQs