Last Updated on June 8, 2023 by
It is not new that video consumption has increasingly attracted the attention of Internet users, whether they are fans of this type of media or not.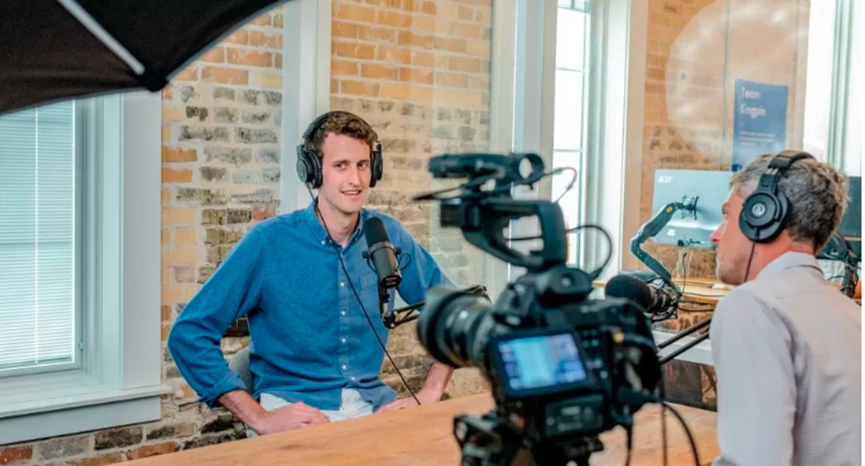 However, audiovisual interactivity has stood out among audiences of different ages and interests.
With that in mind, video marketingemerged, a profitable and exciting way to bring your brand to your audience's screens.
If you are out of the loop, come and understand what video marketing is, how to apply it in a digital marketing strategy, and how it will affect your business.
WHAT IS VIDEO MARKETING?
Video marketing within a strategy aims to attract and engage your target audience.
It can be portrayed in different ways: advertising and publicity campaigns, institutional video to strengthen a brand, and content production to educate your customer, among other content.
But, before defining what content to produce, it is essential to pay attention to the focus of the marketing strategy, how relevant it will be to your audience and whether it adds value to your brand.
BENEFITS OF VIDEO MARKETING
If we had to cite one main benefit of video marketing among its many, it would be the ease of consumption.
Today, with the multitude of platforms to make videos available, we can say that practicality is combined with the consumption of videos and can even be watched anytime and anywhere.
Greater user engagement and interaction with your content
It's no wonder videos have a higher engagement than text or image content.
In numbers, they correspond to 80% of conversion in the sales funnel, and that's because video content has more face-to-face dynamics with the audience in terms of brand-user interaction, increasing intimacy, and building a relationship of trust and loyalty.
On top of that, you increase your digital presence and build authority on your segment, on the product you sell, the service you provide, or the subject you address.
Influence of videos on SEO strategy
Youtube is the second largest search engine for content search on the internet today, behind only Google. It is estimated that YouTube has 1 billion users.
This already gives you a dimension of the size of videos' influence in optimizing an SEO strategy.
Although hosting videos on other platforms, such as WordPress, can be less advantageous in optimizing SEO strategy and its results, the engagement advantages are significant if we imagine its great power of reach.
Regardless of the platform on which the video will be hosted, the most important thing is to produce original and quality content.
And especially that it meets the relevance for your persona and is aligned with SEO optimization, with keywords designed for Google search engines and indexing for Youtube.
HOW TO CREATE A QUALITY VIDEO THAT CONVERTS?
The production of a video that converts leads is a simple task, but it requires aligning the content according to the objective you want to achieve with it and if it is relevant to the persona.
These are the main strategies to produce a quality video that converts hits into qualified traffic, consequently becoming sales.
After thinking about what you want to achieve with video marketing production, we will give you three essential tips so that your video comes out with high-quality editing and relevance.
#1 Use a video editor
Invest in multitasking programs that edit efficiently and combine effects and conversion tools, such as those that allow you to create a video with photos. But if you lack tool skills, don't worry. Today, many editors are easy to use and more intuitive than technical.
#2 Think about your persona
A big part of the success of videos is how interesting it is to your persona.
There's no point in a video with the current theme, with resolution and editing quality, if it doesn't meet the interests of my audience.
If you don't have a well-defined persona in your marketing strategy, now is the time to create it and engage your business even more.
#3 SEO for Youtube
This tip is believed to be one of the most important on our list because it's what will drive your video content towards the persona.
But for that, it is necessary to align some SEO techniques for Youtube search engines.
Remember that the tips below must contain and relate to the keyword, which must be directly related to the content of your video.
– Rename the video: help the search engine understand your video's central theme. It is recommended to rename the video by separating the words by a hyphen to make it easier for search engines to understand.
– Create an organized title: This technique is doubly significant, and it helps the platform's search engines understand the video's theme, makes your channel more organized, and improves the user experience.
– Make a description: make a succinct and exciting description, which is an essential part of getting your persona's attention.
– Use tags: tags have an indexing function, optimizing users' search for your video. It even chats with other videos that address topics similar to yours, offering your content to users. Therefore, thinking about the tag is very important to optimize the reach of the videos.
The results can dictate the success of your marketing strategy, which ends up showing a positive and advantageous effect on your sales. Therefore, more than just producing content to attract your audience to close a sale, content production impacts people's lives.